Welcome to Krk, the beautifully diverse island in Kvarner Bay, northern Adriatic! Known as the 'golden island', it will take your breath away and provide you with the perfect place for a restful holiday away from the daily hustle and bustle. Krk island is like a neatly wrapped present you will love to open and explore bit by bit:
Natural attractions
From lush greenery on the western part of the island to bare and cliffy southern side, Krk abounds in beautiful scenery. Explore its variety by walking along the Moon Trail near Baška, past vineyards in Vrbnik area or olive groves in the west. Relax and recharge in untouched nature on the Prniba peninsula near Krk town. Also, don't miss natural attractions such as Biserujka Cave in the northeast.
Beaches for everyone's taste
Reflecting the amazing diversity of Krk island! From busy urban beaches with Blue Flag status to hidden bays, some of which can be accessed only by boat, Krk has it all. The beaches are often pebbly, rocky and sometimes sandy, and most of them offer additional services - beach equipment rentals and catering facilities. The most famous ones include Meline, Malin Draga and Rova (Malinska), Krk town beaches, Oprna, Vela Plaža and Potovošće.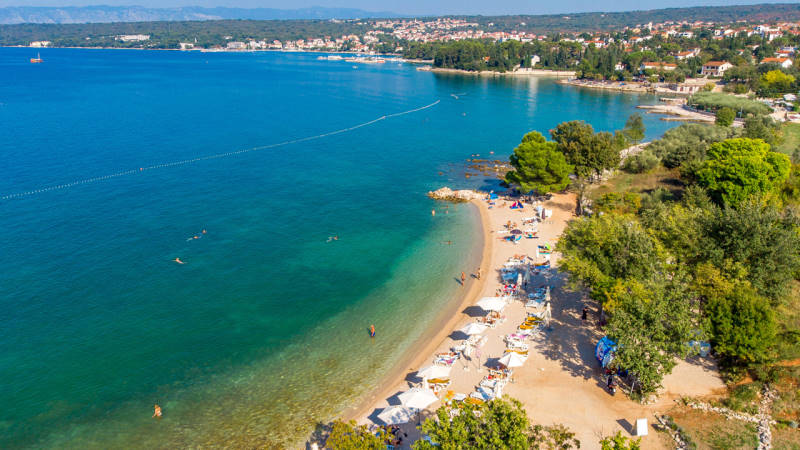 Cultural-historical sights
Open the chest of culture and history on Krk! The history of the island dates back a couple of millennia as evidenced by the ancient site of the Fulfinum-Marine complex near Omišalj. Also, Krk is well-known as the cradle of early Croatian literacy with numerous findings written in Glagolitic script used in this region up until the 19th century.
Visit the fascinating towns all over the island such as Krk town, Omišalj, Vrbnik, Baška, and places like Glavotok and Košljun island to learn more about its fascinating story.
Excellent cuisine
Treat your taste buds to delicious flavours of local cuisine! Be it seafood and fish or meat, locally sourced vegetables or desserts, gastronomic delights on Krk island never disappoint. The unique features include authentic pasta šurlice and žlahtina wine from the Vrbnik area. Fans of fish also love meals such as sardines made in traditional buzara style. Similarly, meat lovers get to relish in lamb meat in dishes such as žgvacet, while vegetarians greatly enjoy meals with locally grown vegetables such as wild asparagus.
Active holiday
Explore the island while being active! Use the opportunity to have fun paddling along the coast in a kayak or on a SUP board. Discover the world beneath the surface by snorkelling or diving. Go on a real sailing adventure to grasp the beauty of the coast from the sea. Follow the trails on foot or by bike all over the island, which happens to be a true hiking and cycling paradise. Keep in shape doing your favourite sports or take up a new hobby, be it beach volleyball, mini golf, tennis or others.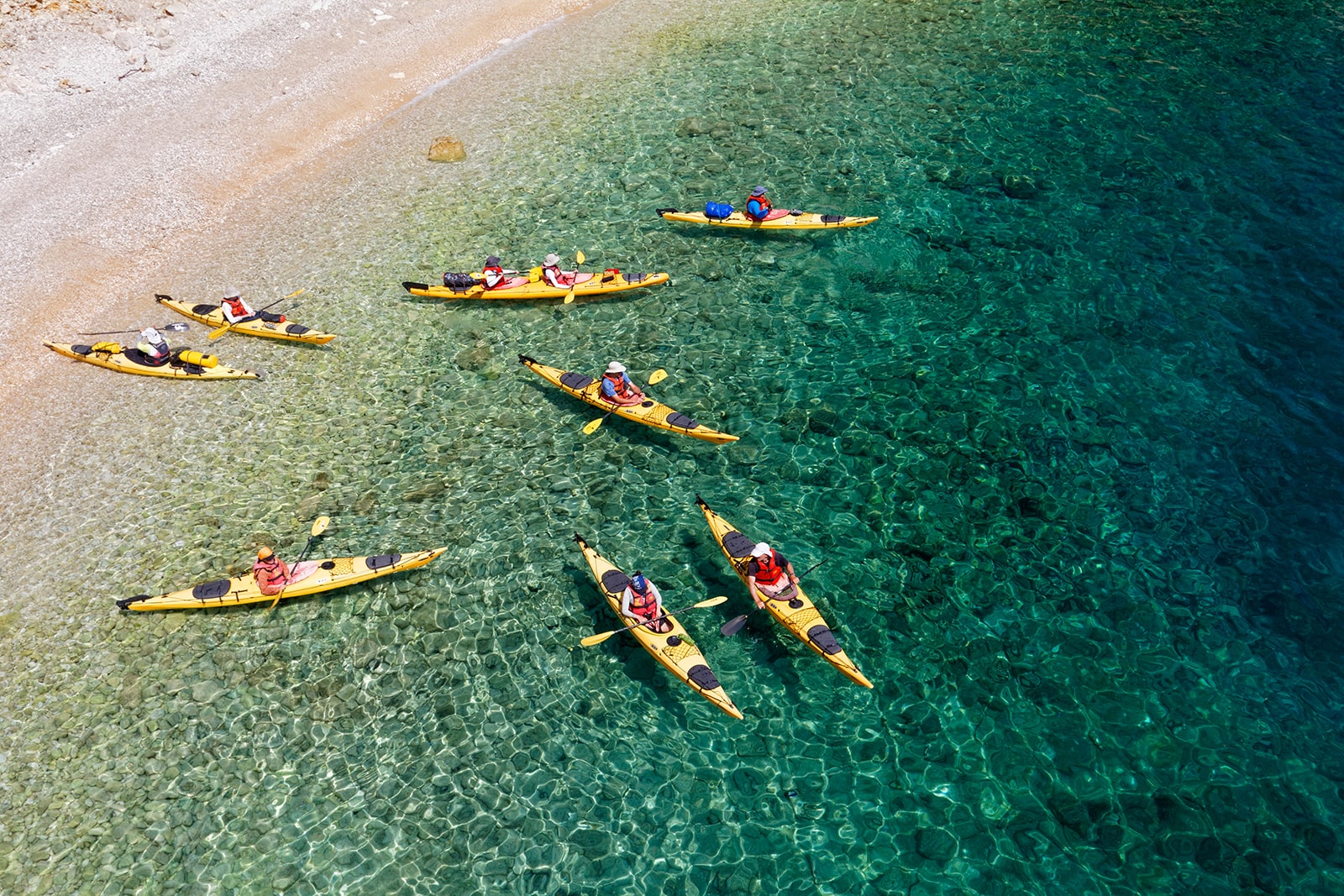 Fun adventure
Get to know Krk island with a rush of adrenaline! Take a 'walk in the treetops' with the Zipline Edison between Krk town and Baška. Go scuba diving on various sites off the coast of Krk, featuring shipwrecks and underwater caves. Give wakeboarding a try in Punat and treat yourself to exciting water sports - water skiing, jet skiing, tube and banana rides etc.
Busy events calendar
Join in the festivities on Krk island! There are a number of traditional events held annually that are equally enjoyed by the locals and visitors. The Krk Fair Lovrečeva held in August takes you back to medieval times, and has 500 years of tradition. Throughout the year, especially in spring and autumn, food festivals and fairs highlight the very best of Krk cuisine. Indeed, events such as Krk Food Fest are true feasts. Fans of active holiday also like to join in sports events such as Krk Bike Story which often combine being active with gastronomy.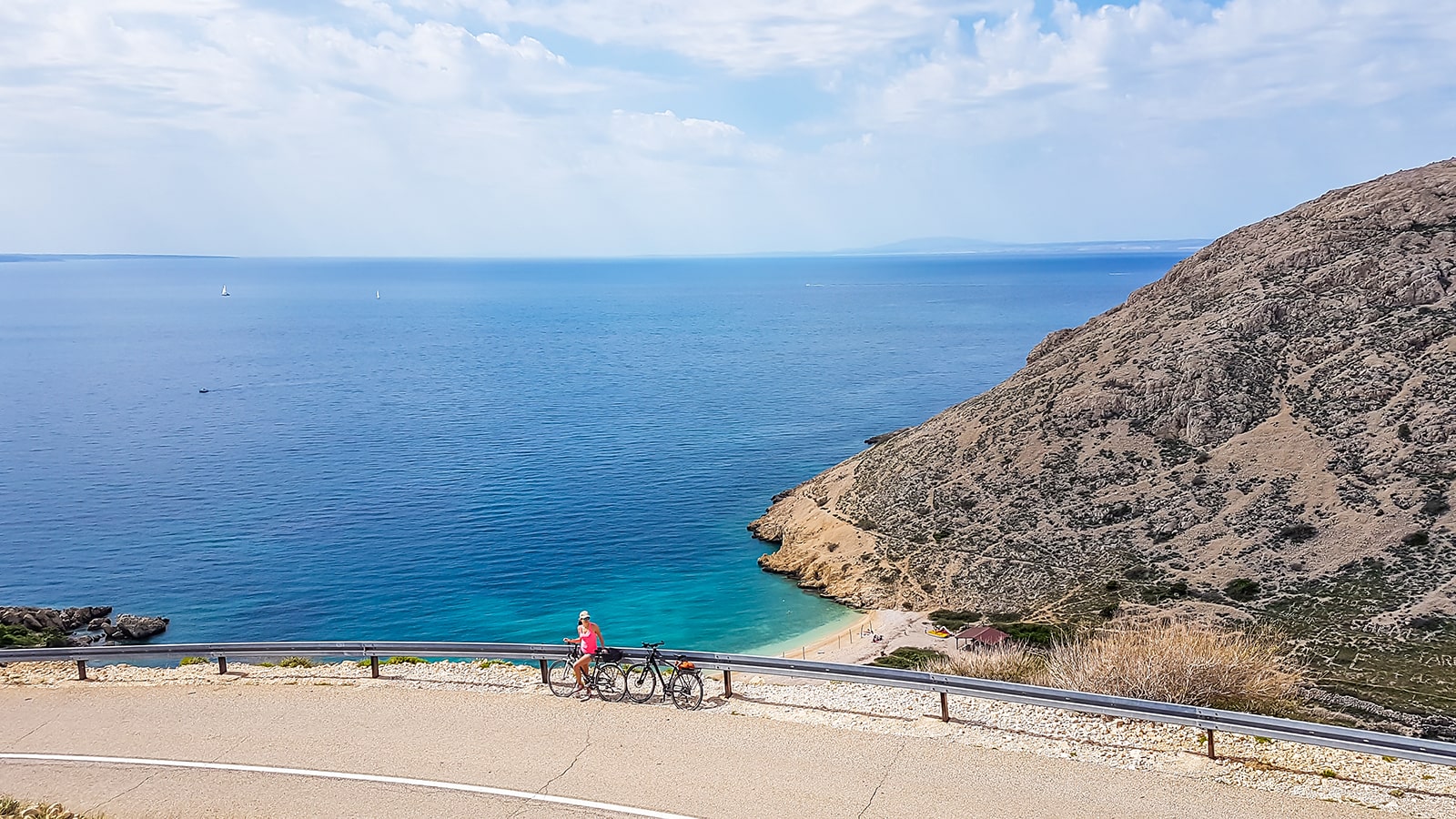 Lovely weather
Like a typical Mediterranean destination, Krk island boasts mild and pleasant microclimate. It has around 2500 hours of annual sunshine and average temperatures are higher than 10 degrees most of the year. The sea starts to warm up in spring, so the bathing season opens relatively early. The sea temperature tends to be 20 degrees or higher for at least 5 months. The weather is definitely another reason why Krk is a top destination for active holidays, getaways off season and great summer vacations.
How to get there
Krk is the most easily accessible island in the Adriatic Sea. Not only is it close to the mainland, but there is also the Krk Bridge that connects them. That way it is not necessary to queue for the ferry to reach the island. The roads on the mainland that lead towards the bridge include motorways A6 and A7. In other words, you can expect a pleasant journey to your destination.
Krk can also be reached by air. Namely, Rijeka Airport is actually situated near the town of Omišalj on the island. Both national and international flights are, therefore, available to get to Krk.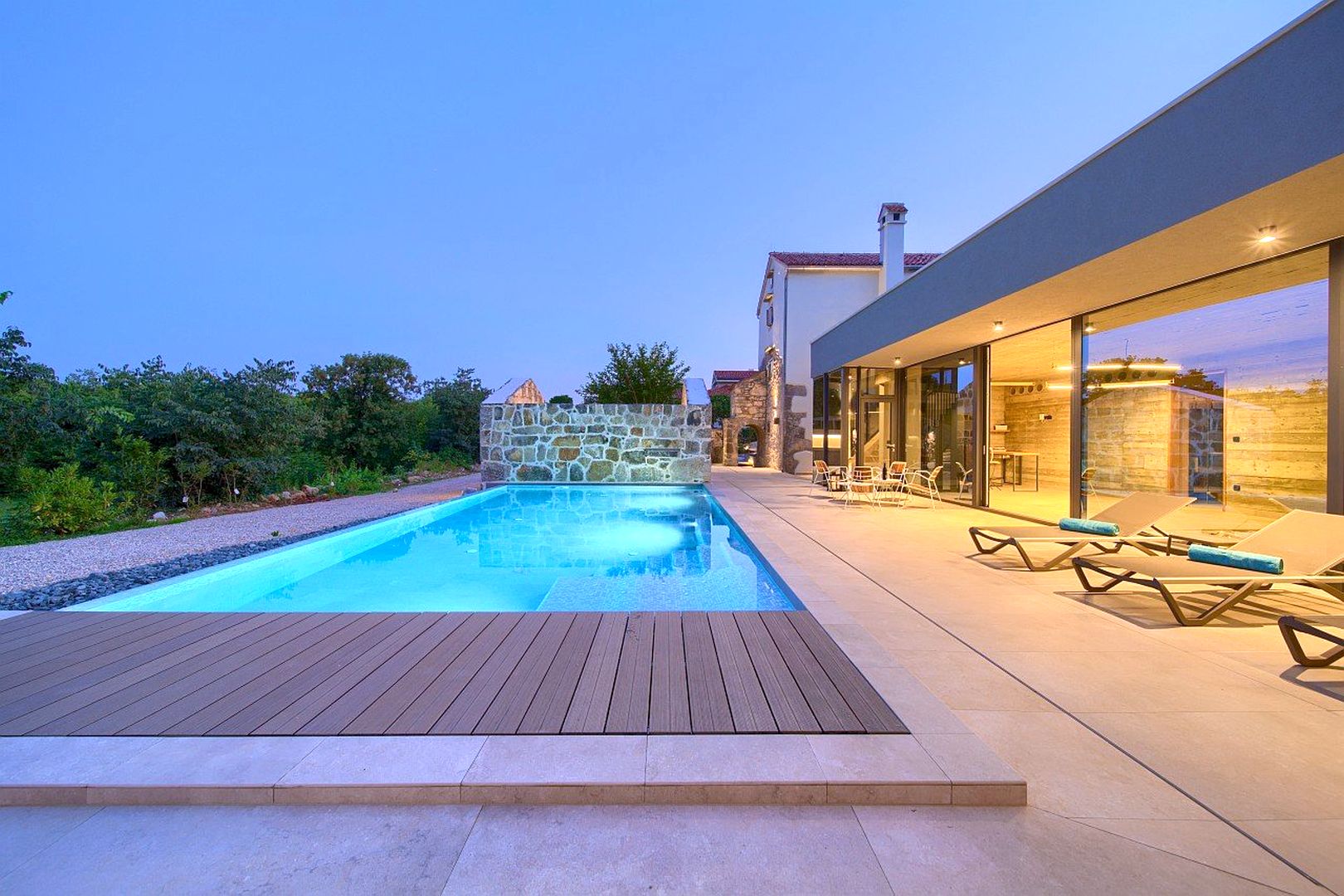 Where to stay
Want to enjoy your holiday in full privacy with contemporary luxuries? Consider renting a luxurious villa in the Krk countryside or close to the sea. Most of them come with a pool and irresistible extras. If you prefer an apartment, you can also find units with access to a pool and additional amenities for your absolute comfort.
Krk island is also a favourite among the fans of camping. The selection ranges from smaller family-run campsites to larger resorts with a rich offer. The same is true for hotel accommodation, with most hotels within the 3-star and 4-star range.
Amazing experiences on your Krk holiday
Spend time in amazing nature, exploring the coast, admiring the countryside. Discover fascinating stories about the island once and today. Hike and cycle, be active and and find your adventure while getting to know the extent of its beauty.
Taste the irresistible flavours of a wonderful, healthy cuisine. Most importantly, find your peaceful retreat from daily rush on Krk island - the island of many faces and wonderful experiences you will always dearly remember.