A hidden beach in a secluded cove, accessible only by boat. A Blue Flag beach with a number of available activities and services. Sandy, rocky, pebbly. Quiet or bustling with activity. A beach with plenty of shade and/or a sunbathing paradise. Krk beaches come in all variations and give you a wealth of options to choose from along the indented coastline of the island. Keeping in mind the characteristics of the coast, the beaches are listed in four geographical regions: north, north-west and west, south-west and south-east, and east:
Beaches on the northern coast of Krk
Take your pick among the beaches closest to the Krk Bridge! The most popular beaches in this area can be easily accessed by car and often include convenient amenities.
Meline (Ćižići, Soline Bay - map)
Famous for its healing mud, the beach is among the first ones to open the bathing season in Croatia every year. It has a very long shallow stretch, which makes it perfect for families with children, even though it lacks natural shade.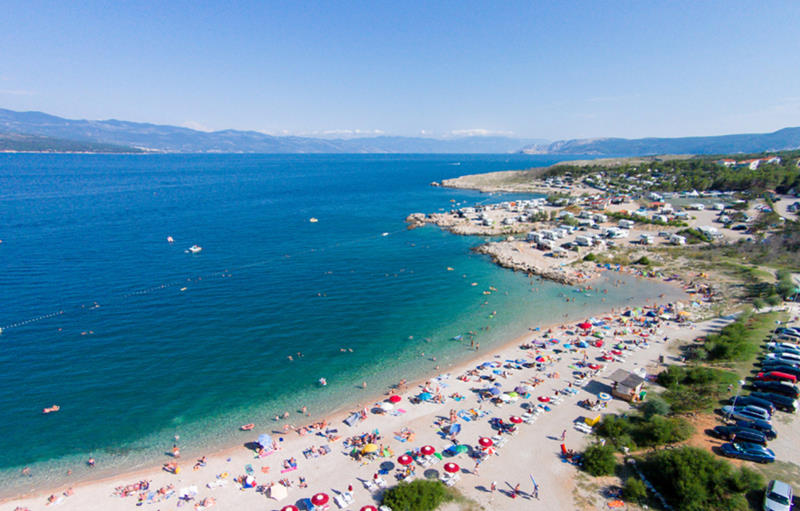 Slivanjska (near Rudine - map)
Round off your visit to Biserujka Cave with a walk along the educational trail to Slivanjska cove! The quiet, sandy beach is set in rough, rocky scenery where there used to be a pier for the nearby village, Rudine.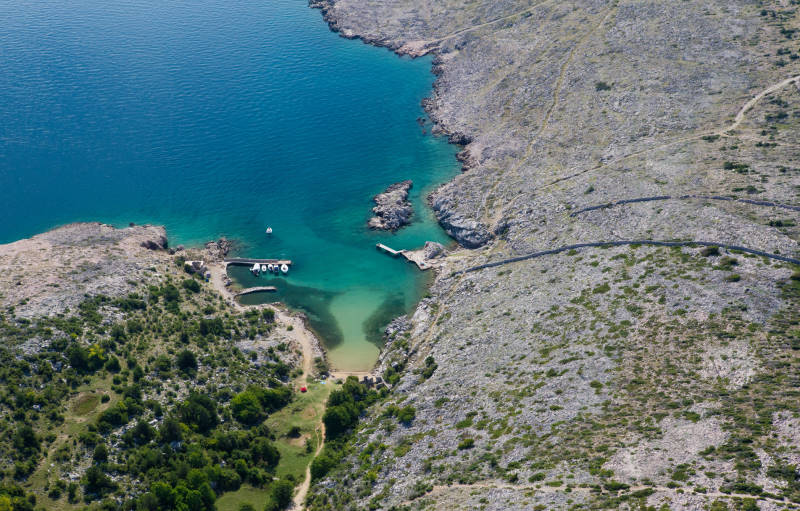 Pesja (Omišalj - map)
The Blue Flag sandy beach is located underneath the cliffs of Omišalj. It offers thick shade of the pine trees and a beach volleyball court nearby, not to mention access for people with disabilities.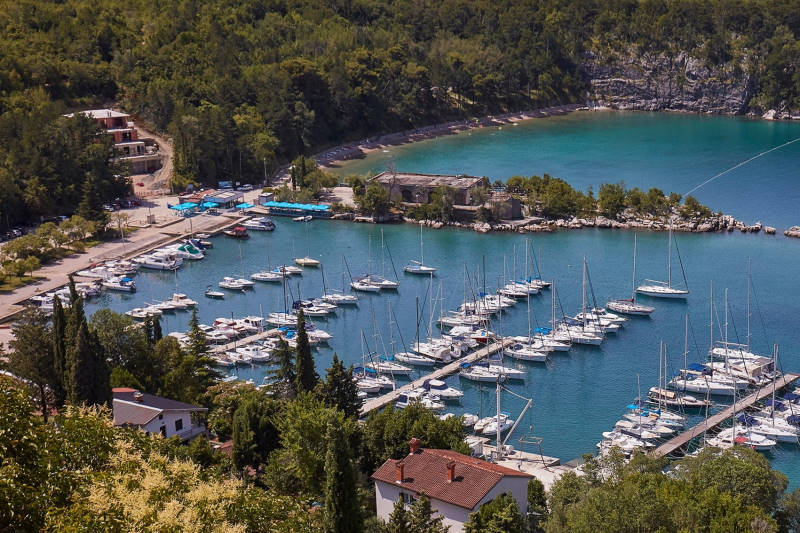 Beaches on the north-western and western coast of Krk
Green oasis of quiet or a busy beach buzzing with activities? Following the coastline from Malinska to Krk town, this area has it all.
Malin Draga (Malinska - map)
The charming town of Malinska has quite a few lovely beaches, but Malin Draga is among the liveliest ones. The long, pebbly beach has concrete parts just perfect for sunbathing and relaxation. Apart from bars and restaurants, the beach offers water sports and fun activities for children.
Rova (Malinska - map)
An excellent choice for a whole day out by the sea is Rova. It features a gentle entrance into the sea, just perfect for families with children. Apart from the parking area nearby, the pebbly beach provides plenty of shade under the olive trees, beach equipment rental, fun activities and catering facilities nearby.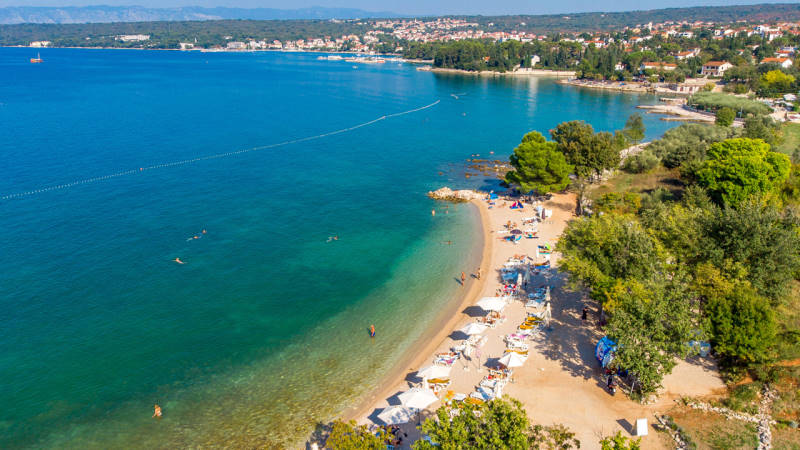 Magneli (near Glavotok - map)
The Glavotok area is known for its lush Mediterranean vegetation and hidden coves, some of which have difficult access or are reachable only by boat. You can get to the peaceful pebbly Magneli beach by walking along the path from the parking space just outside the village of Brzac.
Jert (Pinezići - map)
The pebbly beach with crystal clear sea is surrounded by a thick pine tree forest. It has the Blue Flag status, and it offers refreshments in beach bars and fun activities for kids. Jert is situated in Pinezići, a village not far from the ferry port Valbiska.
Krk town beaches
It is the town with some of the most exciting beaches on the island. Several of them have been awarded the Blue Flag status. To name just a few, the pebbly beaches Portapisana or Porporela come with an excellent view of the ancient town walls. Dražica beach offers an outdoor workout area, a zipline across the cove, water sports as well as beach bars and restaurants.
Beaches on the south-western and south-eastern coast of Krk
Get ready for a complete change of scenery! As the exact opposite to the previously mentioned greenery, this side of Krk is mostly bare and cliffy. Many of the best beaches here can be reached only or preferably by boat. Still, a day trip or a private boat taxi tour is well worth it!
Oprna (near Stara Baška - map)
Regularly topping the lists of the loveliest beaches, Oprna can be reached easily by boat, but also by land. Coming to the quiet beach on foot requires walking along a narrow path downhill from the road. It lacks natural shade, but sun umbrellas and loungers can be rented on the spot. There is also a beach bar.
Vela Plaža (Baška - map)
The beautiful long beach with turquoise water attracts a lot of visitors. This Blue Flag beach is both sandy and pebbly. It offers a number of services and activities, from water sports to bars, restaurants and shops nearby. It is popular with sailing fans and surfers.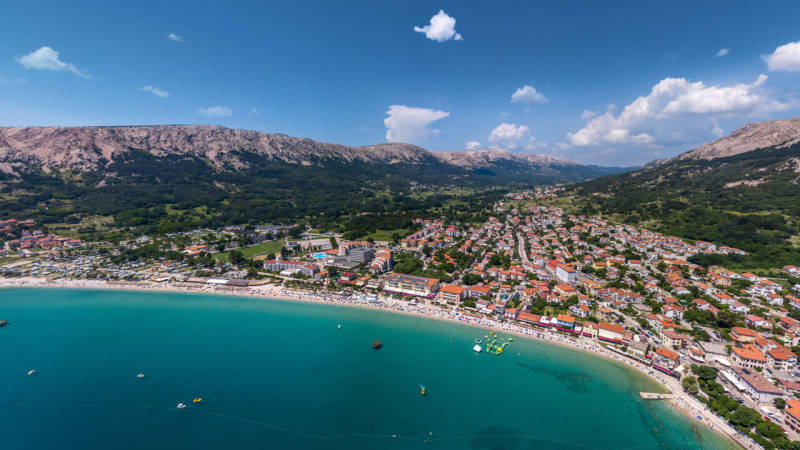 Vela Luka (near Baška - map)
The amazing beach can be accessed by a (taxi)boat or on foot following a challenging long hike. There is a restaurant on this pebbly/sandy beach as well as sun umbrellas and loungers to rent.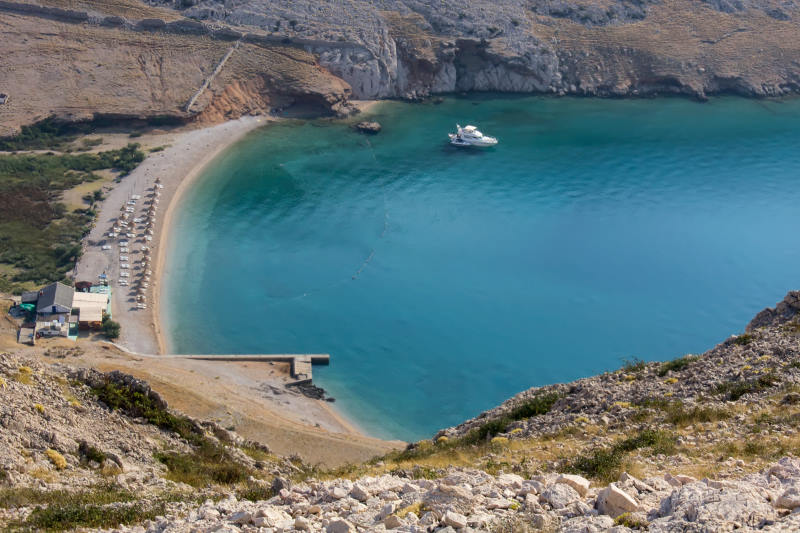 Beaches on the eastern coast of Krk
This part of the island offers a challenging way to some beaches as well as a number of peaceful and family-friendly ones. There are a few stunning coves accessible only by boat or requiring a hike to reach them.
Potovošće (near Vrbnik - map)
Surrounded by Mediterranean shrubs, the secluded pebbly beach with a sandy seafloor and crystal clear sea is a popular beach in this part of Krk. It offers a beach bar and a rental service (sun umbrellas and loungers). There is a parking area right next to it.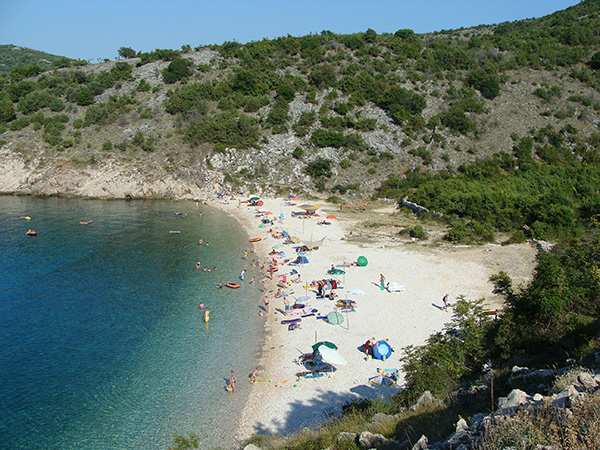 Sv. Marek (near Vrbnik - map)
The only entirely sandy beach on Krk is a great choice for families with children. It was named after a church, the ruins of which can still be seen nearby. It offers a parking area, beach bar, and beach equipment rentals.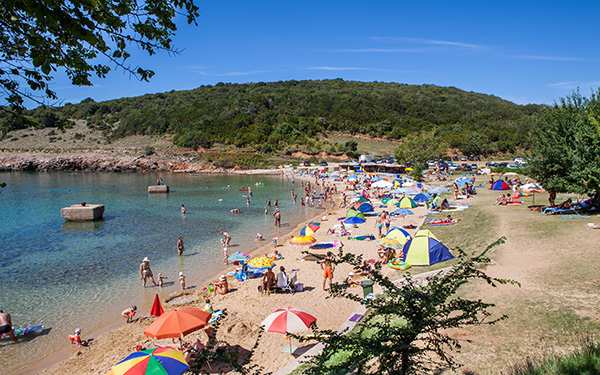 Pećine (Šilo- map)
Situated in the midst of Šilo, the sandy beach with the Blue Flag label is a favourite among families with children. It also has a concrete part and provides shops and restaurants nearby for absolute comfort.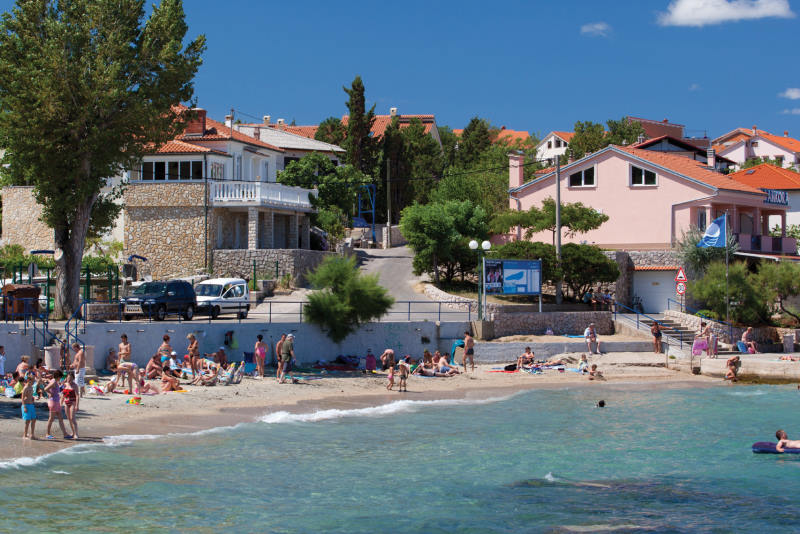 Dog-friendly beaches on Krk
Share some water fun with your furry friends! While there are a number of wild beaches on the island where you can take your pets, there are several marked dog-friendly beaches as well. These include Kijac (Njivice), Ribarsko Selo (Malinska), Redagara in Krk town, Mala Krasa (Punat), area within Vela Plaža (Baška), Mala Javna (Vrbnik).
Explore the best ones around you
Don't miss the most beautiful, peaceful, magnificent beaches on Krk near your destination! Check out the must-see places on the coast in the immediate vicinity of your holiday home and experience unique moments by the sea.