Feel re-energized, feel inspired and fulfilled ... on your hiking trip on Krk! With its elaborate network of trails, the island is a fabulous destination for all fans of walking and exploring nature. So, pick your routes and embark on your hiking adventure... along the coast, uphill, through towns, villages and hamlets, along rough off-road paths, past olive groves, vineyards and lush Mediterranean vegetation.

Why hike?
Because you want to be active. Because you wish to experience Krk from a different perspective. Because you like being outdoors. Simply because it's good for your soul.
Hiking on Krk allows you to add a magical touch to your stay on the island. Maybe you would like to take a light walk along the coast at sunset. Or you are ready to explore challenging trails leading to the highest tops (Veli Vrh at 541m and Obzova at 568 m) on the island for amazing views.
It's entirely up to you to pick just the right trails to explore with your favourite people. The ones that perfectly correspond to your physical shape, interests and preferences.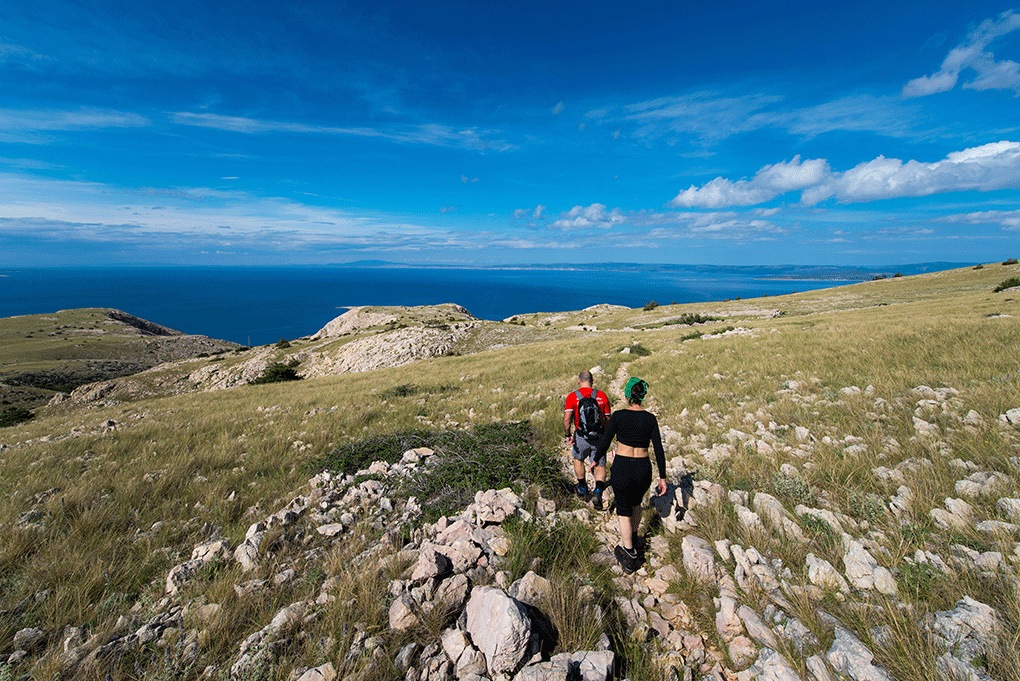 Network of hiking trails on Krk
300. That's the number of kilometres of marked hiking trails on the island. They vary in length, level of difficulty, elevation profile, path type and attractions along the way.
One of the best ways to get to know the entire island is to take the circular route called Camino Krk. It takes 7 days with roughly 20 km of walking every day to come full circle. Still, you can always just pick a stage and enjoy a part of it, since it leads through towns such as Krk, Malinska, Omišalj, Dobrinj, Vrbnik and Baška. In the area of Dobrinj you can also embark on a one-day circular trail called the Paths of Dobrinjština, with a start in Šilo.

Hiking in Krk can also give you an insight into the heritage of the island. Some of the most popular educational trails include: Baška Glagolitic Trail in the southeast, Path of the Puddles (Cro. Put lokvi) from the village of Milohnići in the west, or the trail near Malinska about the hard life of farmers over history.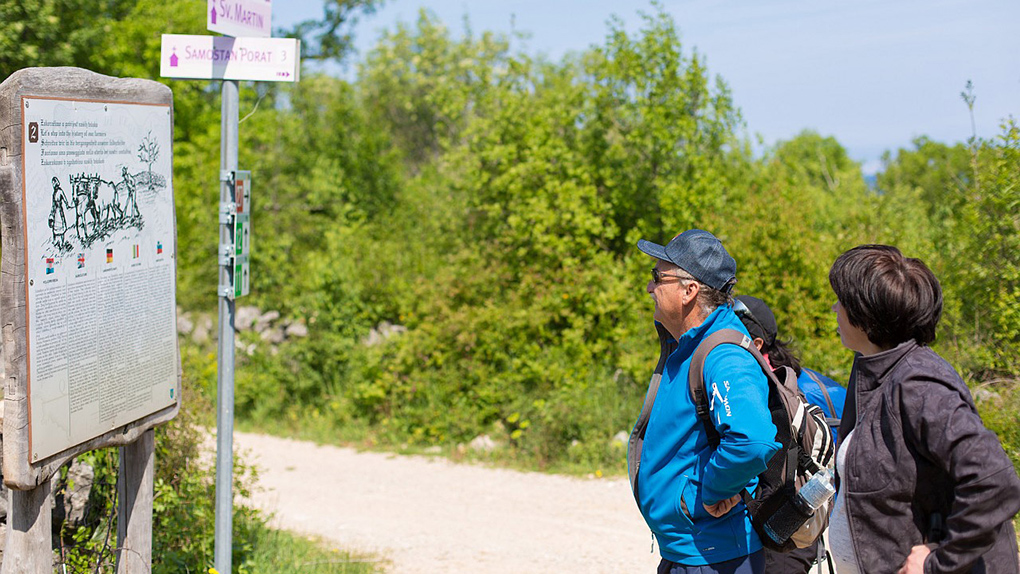 For a lovely light walk by the sea in the shade of the Mediterranean greenery, two of the loveliest options are in Malinska: the trail towards Porat and the so-called Paradise Road towards Njivice. On the other hand, looking for a challenging route with hardly any shade, pick the so-called Moon's Trail near Baška.
Krk Hike app... and more
Get all the info! No matter where your hiking trip on Krk may take you, it is highly recommended to download the Krk Hike app from iOS or Google Play. It contains maps, useful info about trails as well as navigation.
Also bear in mind that proper footwear is an absolute must. The same applies for plenty of refreshments. Additional gear such as hiking poles is a great idea as well. Still, remember to pack light, check the weather report and make sure your phone is fully charged before you embark on your hiking adventure.
Krk - your hiking paradise
Nothing is better than a sense of fulfillment when you reach the peak, stumble across a stunning sight or just enjoy the tranquility of nature around you. On the beautiful island of Krk!