As the summer sun sets, Krk, the golden island of Croatia, undergoes a transformative beauty. Located in the crystal waters of Croatia, it offers a compelling mix of natural beauty and cultural heritage. This autumn, experience its rich gastronomy, vivid wine landscape, and the comforts of exquisite villas.
Dive into Krk's Olive Oil Culture
Taste the Authenticity: Krk is famed for its olive oil. The Nono House of Olive Oil offers tastings of this liquid gold and introduces you to its production process.
Harvest Experience: Have you ever thought about where that olive oil on your table comes from? Join the traditional olive harvest from October to December. Be part of a team of over 1,000 pickers, and immerse in this age-old tradition.
Krk's Wine Palette
Krk Island's wine varieties have a story to tell.
Vrbnička žlahtina: A gem from Vrbnik, this wine is recognized for its pleasant aroma and mild bouquet, reminiscent of green apples and floral nuances. Recommended spots for tasting include the Ivan Katunar House of Wine.
Valomet: Matured in amphoras deep under the sea, Valomet offers a refreshingly crisp taste.
Krk's Prosecco: Unlike its more famous Italian counterpart, Krk's Prosecco is a sweet dessert wine, perfectly paired with the island's traditional fig cookies.
Events to Mark on Your Calendar
KRK BIKE STORY (7th – 8th October): Breathe the crisp autumn air and cycle through scenic places like Vrbnik, Dobrinj, Omišalj, and Malinska.
Squid Days: Celebrate Krk's seafood legacy in October in Omišalj and Šilo. A treat for seafood lovers! More on local events here.
Your Perfect Autumn Stay: Contessa Villas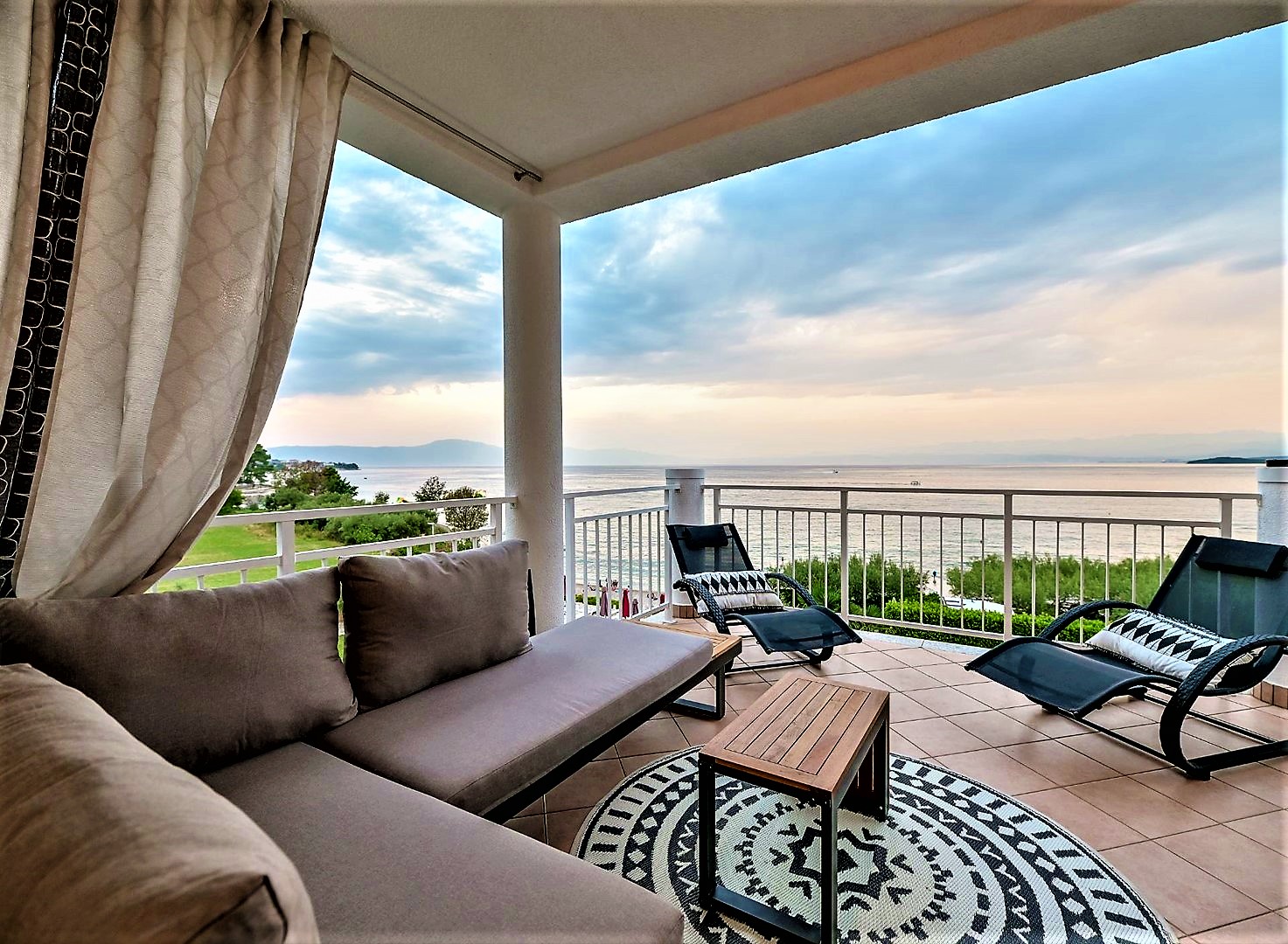 > Balcony view from the Princess Apartment, Contessa Villas
Your stay here transforms a good holiday into an extraordinary one. Contesa Villas promise a blend of luxury with authentic Krk experiences.
Modern Villa Frangipane: This gem is tucked away in Cerovići village, a stone's throw from Crikvenica's heart. With four spacious bedrooms, a salt-electrolysis pool, and a scenic terrace, it's an oasis for those desiring luxury and tranquility.
Charming Villa Crassula: Positioned on Krk Island, this family-friendly villa boasts a vast garden, three cozy bedrooms, and a private pool. Dreaming of an escape from the city bustle? Villa Crassula awaits.
Luxury Penthouse Claudia: Overlooking the serene waters, just 200m from the beach, is the Penthouse Claudia in Malinska. Its panoramic sea views, spacious terrace, and modern interiors promise a vacation.
Princess Apartment: This luxurious abode stands proudly by the sea in Malinska's bay Rova. Spanning 220 m2, it offers panoramic sea views, elegant interiors, and direct beach access.
Wrap-Up
With Krk Island covered in autumn's splendor and Contessa Villas offering unmatched luxury, your perfect holiday awaits. Dive into nature, sip on the finest wines, and rest in comfort.