Autumn brings a calm essence to Krk Island. The crowds thin out. The scenery shifts to a palette of warm colors. It's a time of quiet beauty and outdoor activities that showcase the island's charm.
Set Sail: Island Hopping
The Adriatic Sea surrounding Krk Island is a spectacle in autumn. The catamaran tour from Krk Harbor is a popular choice. The tour starts early, offering a full day on the water. Sveti Juraj, the first stop, has an old harbor. It tells tales of past maritime trade. Plavnik Island follows, famous for its adventurous cave-swimming spots. The water is cool and clear. Kormat Island is known for its seagulls. Sometimes, dolphins make an appearance, playing in the water. The tour is leisurely; the sights are many​.
Sky High Thrills: Ziplining
Ziplining on Krk Island is for thrill-seekers. The zipline tour begins with a safety briefing. The equipment is modern and safe. The tour has eight ziplines. Each zipline offers a new view of the island.
The landscape below is a mix of forest and sea. The zipline tour is well-organized and led by experienced guides. It's fun to see Krk Island from a new perspective​.
Historical Intrigue: Košljun Monastery Museum
Košljun Island is a short boat ride away. The Franciscan Monastery Museum is its main attraction. The museum is quiet and peaceful. It houses religious art and old documents. They tell tales of Krk Island's religious past. The monastery has a small, quaint church.
Rainy Day Escape: Wine Tasting
Rain in autumn is common. Local wineries offer shelter and wine-tasting tours. The tours are informative. They explain the local wine-making process. Each wine-tasting session is unique. The local wines are flavorful and varied. The indoor setting is cozy and welcoming​.
Beach Leisure: Porporela Beach
Porporela Beach in autumn is peaceful. The crowds are gone. The beach is clean and well-maintained. The water is still warm enough for a swim. The sunsets are beautiful. It's a good spot for relaxation or a long, quiet walk along the shore​.
Fishing Excursion
Fishing is a popular activity on Krk Island. Local guides offer fishing tours. They provide all the necessary equipment. The tours are suitable for all ages. They offer a chance to catch local fish. It's a relaxing activity; the sea is calm.
Luxurious Stay: Contessa Villas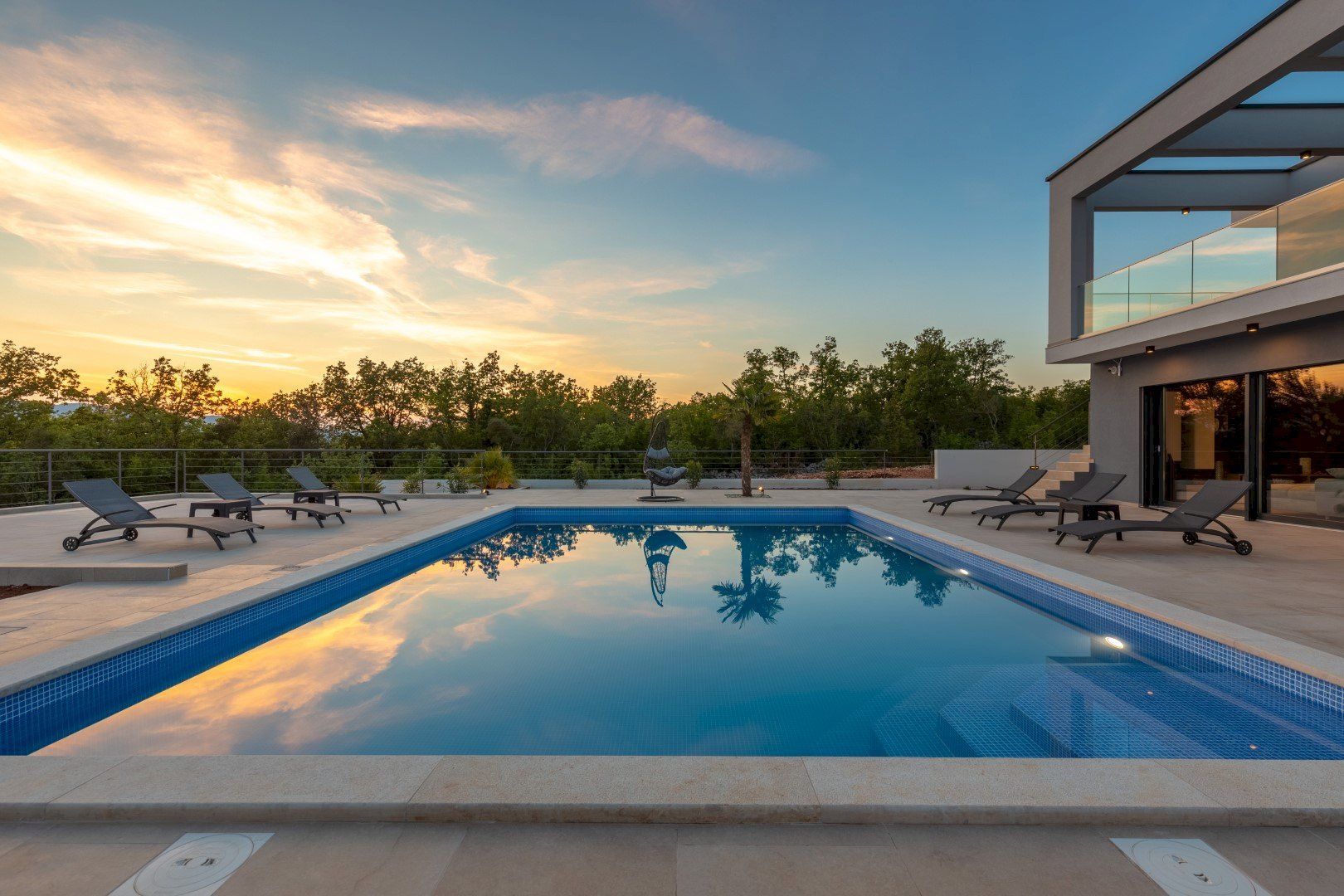 >> Luxury Villa Quadra in autumn aerial view
After a day outdoors, Contessa Villas is a welcoming sight. The villas offer a blend of luxury and comfort. It's a place to wind off, surrounded by the autumn beauty of Krk Island.
Autumn on Krk Island is about calm days, outdoor activities, and luxury relaxation. Whether it's sailing, ziplining, or just enjoying the beach, there's a simple joy in these activities.
And at the end of the day, the comfort of Contessa Villas is ready to welcome you back.
Images source: Ferry Croatia